We're open through October 31st
Y'all don't forget your mask!
Welcome to Hall's Pumpkin Farm, where families from all over Tarrant County and beyond come to enjoy an old fashion fall celebration. Every October, our family celebrates the harvest by inviting folks to visit our farm. We've got pumpkins of all shapes and sizes, gourds, hay bales and corn stalks galore! Our amazing Corn Maze is always an adventure….are YOU up to the challenge? Located in historic Grapevine - nestled between Dallas and Ft. Worth, just west of DFW airport.
So, ya'll come on out and enjoy our family farm!

We will have disposable masks available for purchase
Corn Maze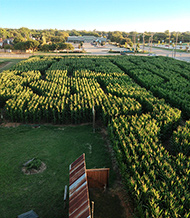 Admission $5.00
Tuesday - Thursday only. On weekends, the Corn Maze admission is included in the General Admission fee.

(Cash only please)

Come and "Get Lost" in our
mind-bogglin' Corn Maze.

Two acres of towering corn stalks,
some standing 9 ft. tall, surround the paths leading through unbelievable twists, turns and dead ends.


New Hours
of Operation
and Admission
Friday - Sunday
Admission:
Adults and Kids 12 and over ...$15
Kids ages 4-11 ... $10
3 and under Free
Senior Citizens & Veterans .....$5

The Friday through Sunday admission fee includes admission into the corn maze and parking

To avoid general admission… Visit the farm Tuesday - Thursday. Admission into the corn maze is $5 mid-week.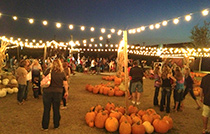 Closed Monday
Tuesday thru Thursday
3:00 pm - 8:00 pm
Friday: 3:00 pm - 9:00 pm
Saturday: 10:00 am - 9:00 pm
Sunday: 1:00 pm - 8:00 pm
Hayrides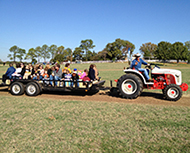 $5.00 Daylight rides
$3.00 After dark
(Cash only please)

Monday - Closed

Tuesday
6:00pm & 6:30pm

Wednesday
5:00pm- close

Thursday
6:00pm & 6:30pm

Friday
5:00pm- close

Saturday
11:00am- 2:00pm
and 5:00pm- close

Sunday
2:00 and 5:00pm- close

Nothing says "Celebrate the Harvest"
like an old fashion hayride. Take a journey across our farm in a
hay-filled trailer pulled by a genuine farm tractor.

NEW THIS YEAR: Hayride tickets will go on sale at the open of business each day- for same day rides only.

COVID-19 CHANGES: in effort to keep our customers safe- we will be carrying a limited number of folks on each hayride trailer!